The energy drink market has a new player. Straight Up Energy launches via Reconnected
Fresh off launching in June, Reconnected launched a new brand into the Australian energy drink market – Straight Up.
Straight Up is shaping as the seltzer of the energy drink category. It is attracting a similar audience to back to the energy drink shelf. Straight up is understated, refreshing and self-aware. It debuts a world-first energy drink innovation by infusing the liquid with Senactiv. Senactiv is a muscle-energy stimulant more commonly found in leading exercise supplements.
Jake Sherriff, Straight Up co-owner, says, "Amongst one of the most competitive categories on the planet, partnering with Reconnected to craft a rigorous but simple business, brand and product narrative was business critical. Together we have already opened commercial doors we weren't expecting this early via the laser-focused positioning and brand."
Romalie Casini, Energy Drink Buying Lead at BP, the first major to range Straight Up, says, 'We are constantly bombarded with pitches for energy drinks. However, we are thrilled about the potential of Straight Up and believe it will further strengthen our offer in the energy category. The brand looks fantastic, and we are impressed with the team's focus on meeting a growing, relevant energy need."
'We feel very fortunate to have been trusted with creating Straight Up. The Straight Up team have hard a focused commercial roadmap across their business and that clarity and transparency has allowed us to set up marketing to deliver value across the four P's. It's a dream relationship for us as we begin to scale'. says Jake Ford, owner of Reconnected.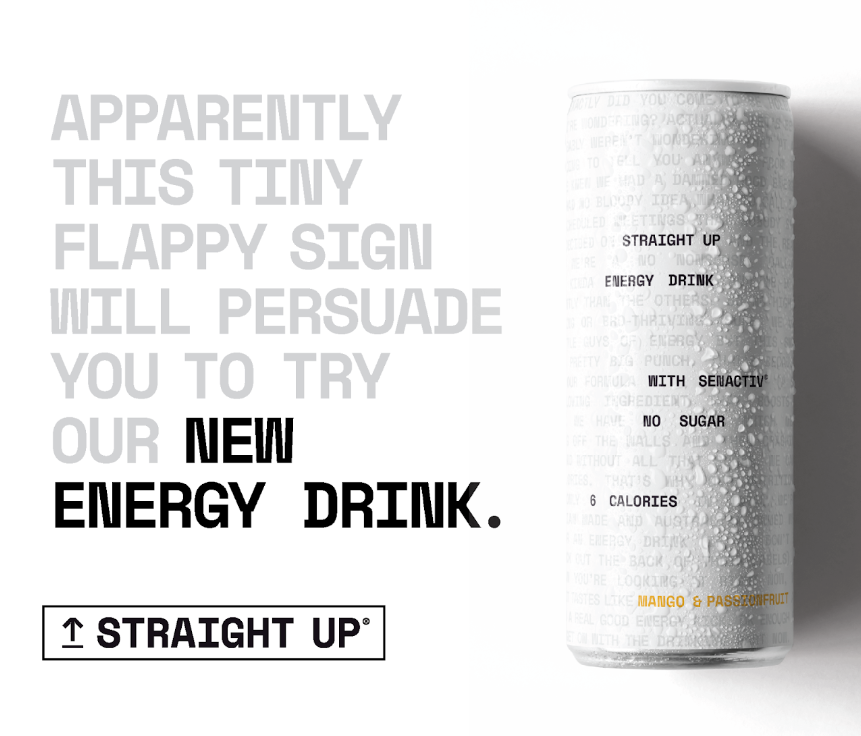 Jake Sherriff says, "The commercial and category rigour that the team at Reconnected based this brand within gave us the confidence to push this brand further than we imagined ourselves going. For us to be competitive, it made rational business sense to be emotionally disruptive and visually brave'.
Julia Spencer, Creative Director at Reconnected, says: 'Straight Up is the kind of brand that presents boundless creative opportunities – brave, new and self-aware. We think the fluorescent world of energy drinks is ready for a real shake-up, and we can't wait to see what fizzes out.'
Reconnected is the strategic and creative partner that conducted research, product positioning, retail engagement strategy and brand development. The work has come to life across packaging, sales presentations and their website. The launch's focus is building the brand retail-out across in-store, retail media, Tik Tok-first social, and various consumer activations across the calendar.
Straight Up will be ranged in BP, a variety of independent retailers nationally, before heading to grocery and on-premise later in 2023. 
See more at www.straightupenergy.com.au
Credits
Reconnected
Creative Director, Julia Spencer
Art Director, Ben Morgan
Account Director, Gio Napoli
Motion Director, Erik Bernacchi
Director, Jake Ford 
Can Design & Flavour Range 
Logos
Website

Retail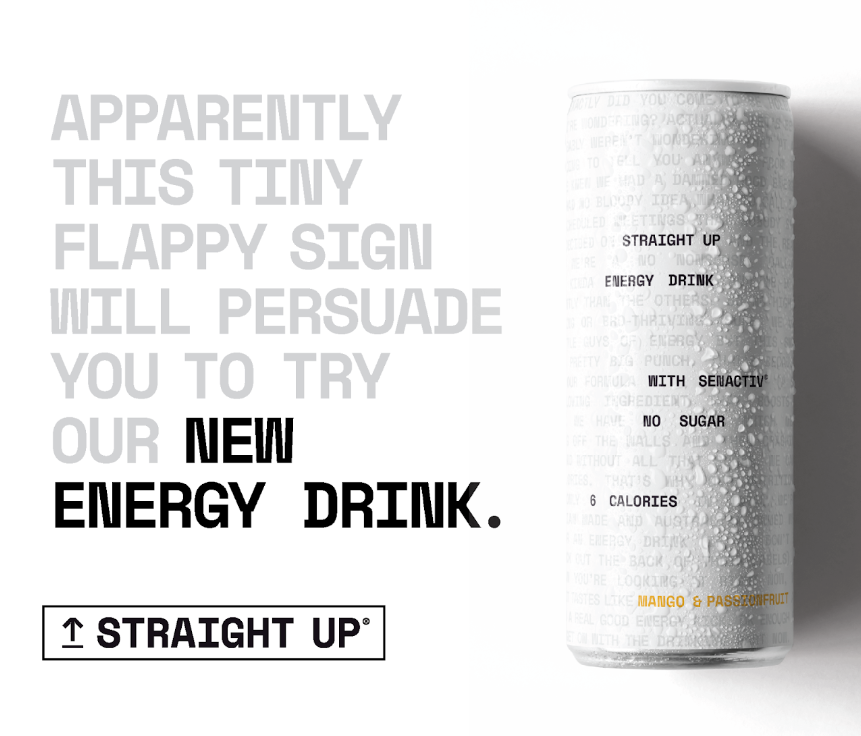 Influencer Engagement